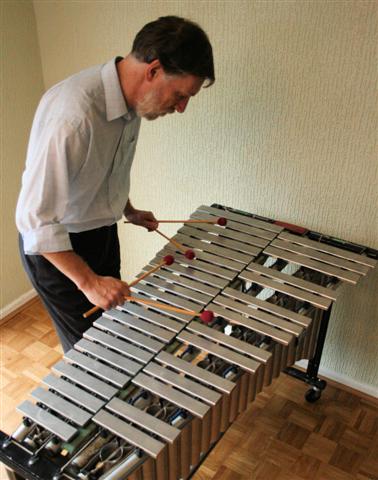 Autobiography
After suffering the torture of classical piano lessons as a kid, I fell in love with jazz as a teenager, and learnt to play the clarinet (really quite badly) and alto sax (not quite as well). Under the leadership of mad chemistry master Frank Carter, enthusiasm for jazz grew in the school, to the point where a jazz concert was planned in the summer term. Then fate took a hand. A couple of days before the concert, I was playing hockey (even worse than the alto sax, unbelievably) when Chris Gillespie's hockey stick met two of my front teeth. At the time it seemed that my music career had been dealt a severe blow but then some clever soul had the idea of miking up the school's glockenspiel for the concert, and so my career as a vibes player was born.
So well did I take to the glockenspiel that Frank Carter channelled some of his chemistry budget into buying a set of vibes "for the school", which, when I left for university, became mine in exchange for a now-redundant sax.
An undistinguished academic career saw me heading for Manchester to try my hand at music, and there I played in a number of jazz groups, large and small, before falling into the hands of the Steve Gorman Dance Band. Here I cut my technique playing Viva Espana and other works of genius in the top nightclubs of East Lancashire including Leigh British Legion and Wigan Casino. I also graced some of the Pontins camps in the area and reached new heights of superstardom by providing backing music for a group of performing dogs and a telepathic chicken as well as the occasional human being.
This promising career was cut short by my desire to eat, and for the next 30 years the music world was robbed of my talents as I festered in a mind-numbingly dull but well-paid IT career. I did continue to play, but the emphasis in my spare time became family life with my wife Mandy, and two sons, Jon and Dan.
And so we reach the present day, when I have decided the time is right to take on new challenges. I have now left IT behind me and, alongside my music have been working as a relationship counsellor since 2004. Despite the blow my long absence from music has dealt to my career, I hope one day to rise again to the dizzy heights I reached in the 1970s and perhaps even to accompany some larger farmyard animals before I burn out.